My Crossword Puzzle Page
...under construction...



I love doing crosswords, and each year I visit the annual


American Crossword Puzzle Tournament

, hosted in NYC*
by Will Shortz, the puzzle editor of the NY Times.

*

Actually, it was in Stamford CT the first 30 years, but to a
New Yorker living in California, that's close enough to call it NY.
This year it's moved to Brooklyn, so for the first time it actually is in NYC.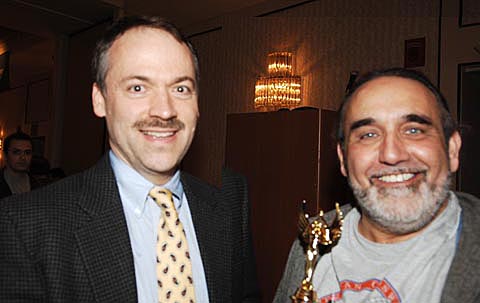 Here's Will giving me a trophy in 2006, I took 1st place in the "E" division!
Results and pictures from the 2008 tournament, 2007..., 2006...
Cruciverbalist's Website - the virtual center of the crossword Universe



The Movie!
This is the best movie ever made about the Crossword Puzzle world.
It was filmed primarily at the ACPT in 2005
Click for more information or to buy now from Amazon.com
Last update: March 5, 008